Susan Bates
Welcome!
Exciting News!
Terri's is participating in this year's Great Tennessee Yarn Tour!
Aug 4 - 27, 2023
Purchase your ticket at www.GreatTennesseeYarnTour.com .
Join in the fun!
Call if you have any questions!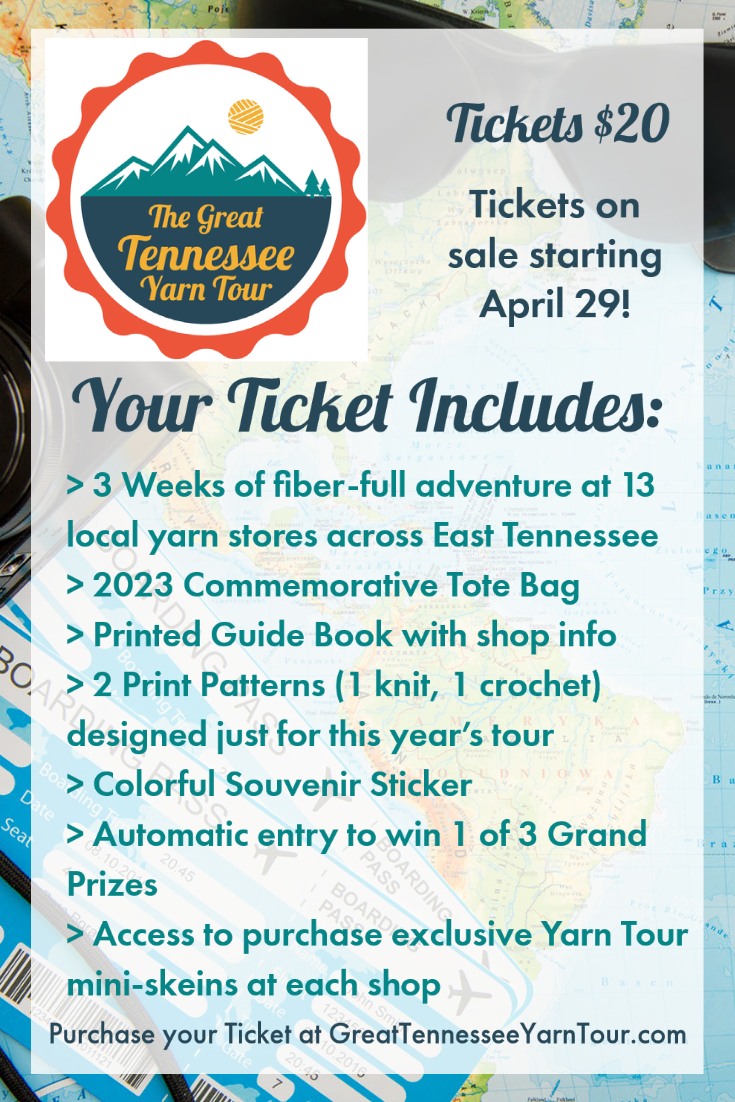 Class and Meeting Schedule


Monday, June 5, 2023 at 7:00 pm Advanced Knitting at the shop. Come at 5:30 pm to go out to eat with us!
Monday, June 12, 2023, 6:30 pm A Crochet Get Together!

Let's start a crochet group for anyone who is interested in crocheting and wants to meet people. Bring a project and we'll have fun for a couple of hours. See you!


Wednesday, June 14, 2023 at 10:00 am: Painting Together at the shop (bring your supplies and project).
Monday, June 19, 2023 at 6:30 pm Advanced Knitting on Zoom (email for a link to the meeting).
Monday, June 26, 2023, 6:30 pm, Needlework Group
I am starting a group for people who like to do needlework: cross stitch, plastic canvas, embroidery, etc.
Bring a project and let's stitch together. Hope to see you!
Wednesday, June 28, 2023 at 10 am Painting Together! (bring your supplies and project).
Watch for more additions to the schedule!

We are a craft supply shop located near the Great Smoky Mountains National Park in Tennessee. It is absolutely gorgeous country! Please stop by when you are visiting the area. We always enjoy meeting people.
When you are shopping for that one-of-a-kind present for a loved one, stop in and check out Terri's. We have lots of painted items, ornaments, notecards, and needlework that would make perfect gifts.
We do custom projects for when you need that something special. Come in and talk if you have a question!
If you are new to the website, please enjoy browsing through the items in the shop. If you have visited us before, welcome back!






Find Us!